Gain Real World Culinary Skills with Guidance from Our Mentor Chefs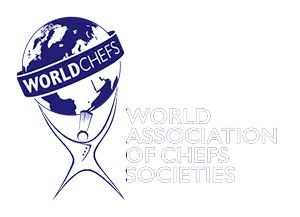 International Culinary Studio offers students the opportunity to learn advanced cooking and baking skills through a structured online experience.  Blended learning combines in-person teaching and online education, and is a world class combination of the latest technology and innovation, together with mentorship by our industry experienced professional chefs.  We offer a well-balanced education programme of culinary skills, methodology and industry externship to help your culinary dream come true.
Study interactive courses, engage with our professional chef instructors, engage with your fellow students in online discussions and on social media, and fine tune your techniques and knowledge to gain an accredited qualification – all in the comfort of your own kitchen or current place of work.  The combination of live sessions, recorded sessions, online forums and 1:1 time with a chef instructor will enable you to learn and grow in the way that suits you to meet your learning style and needs.
International Culinary Studio strives to produce competent, confident professionals ready to step into the exciting world of culinary, or to give individuals already in the industry the opportunity to get a formal qualification to enhance their employment opportunities.​
Code of Practice for the Pastoral Care of our Domestic Students
International Culinary Studio is a online blended learning educator and we value the students who study with us. We are committed to supporting the well-being of all our students and we have a range of policies, processes and support services aimed at ensuring that our students get the best experience whilst studying with us.
International Culinary Studio is committed to both the Domestic code as well as that which covers the pastoral care of international students. More information about the international code can be found here.
Exactly what is the Domestic Code?
The code is to set out the minimum standards of care and support that are expected of all tertiary education providers.
The interim domestic code requires that:
• students experience a physically safe and mutually supportive learning environment that responds to the needs of all students
• students have adequate access to advice, information and services which help them to meet their basic needs
• students are assisted by providers to manage their physical and mental health, and to access support when needed
• students are assisted by providers to transition to tertiary study, progress and achieve in their studies, and to develop knowledge, skills and experience to prepare them for further work or study
• students experience an inclusive learning environment where they are accepted and valued, respected, free from racism and discrimination, and connected with social and cultural networks
• the mana of students is upheld in their learning environment and their voices are heard and integrated in decisions around the planning and provision of student support services
There are a range of requirements set out in the domestic code. For further information on the interim Code of Practice for the Pastoral Care of Domestic Students 2021 in English or Te Reo Māori.
NZQA Accredited Qualifications
Our range of Industry short courses are designed to give students valuable course specific skills employers are looking for in their kitchen staff. On completion of our short courses, students are issued a Digital Badge making it easy for them to share their skills with future employers. Our hobbyist courses are ideal for those looking for culinary personal development.
Important Student Resources
Please make sure you have a read and familiarise yourself with these important documents before you get started on your course.
Let's hear it from our students
Creations From Our Proud Student Chefs
Anne Williamson
International Culinary Studio popped up on my Facebook feed and I decided that I needed to enrol as this is something that I have always wanted to do. Having this qualification, means I can earn $5-$6 per hour more. Most of my family member h…
Read More
Anne Williamson
International Culinary Studio popped up on my Facebook feed and I decided that I needed to enrol as this is something that I have always wanted to do. Having this qualification, means I can earn $5-$6 per hour more. Most of my family member have culinary qualifications and now I am proud to also be qualified.
You can refer a friend to us and receive a $100 Southern Hospitality or Countdown voucher for yourself and a $50 Southern Hospitality or Countdown voucher for your friend!
The process is very simple. When your friend enrols, they will give us your name as their referrer. When they have completed their first course module a voucher will be sent to them and to you.
*N.B To qualify, when enrolling your friend must click on "referred by a friend" when asked "How did you hear about us?", then put your name under "referral friend's name". Your friend must successfully complete at least module one before voucher will be sent.
https://www.internationalculinarystudio.com/new-zealand-certificate-in-cookery-level-4/
Now, go forth and spread the news, the world needs more great kiwi chefs!
INTERVIEW WITH SARAH HEDGCOCK Sarah is 20 years old, from Waimate in Timaru and currently working towards her NZQA Certificate in Cookery Level 4. She spoke to us about her experience training online so far, and her advice for other students keen to follow in...
read more
What you can do with our world class online Learner Management System
Receive unlimited access to an exclusive culinary library, as well as 100's of recipes & videos.
Submit images of your culinary creations and like other's creations
Record videos of yourself preparing your dishes and upload them for assessment
Live video conferences with our head chefs
You can work through your material to fit around your schedule and be flexible with your study times
Grow your professional e-portfolio and apply for the job you want.