Join the many international students choosing International Culinary Studio to gain a recognised culinary qualification
Entry Requirements:
Students must have a good understanding of the English language
Programme is taught and assessed in English ONLY
International students must be 18 years of age and over
Applicants for whom English is a second language require IELTS (Academic) level 5.5 with no band lower than 5.0
Applications from mature students who are looking to change careers are welcome and encouraged.
International students cannot enrol in any New Zealand accredited courses.
Gain Real World Culinary Skills With Our Mentor Chef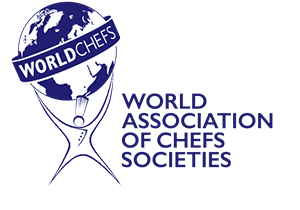 Here at International Culinary Studio we are a small team but come from very diverse backgrounds. Our staff hail from New Zealand, South Africa, Philippines, Bangladesh, Croatia and the UK! We are all here to help provide the learning support you need to successfully complete your course.
To review our quality assurance information, please click here
We have a range of fun and interactive additional learning opportunities you can access once you have enrolled.
- Ask Chef Andy student page
- Regular Coffee & Chat meetings
- Glossary
- Library
- Student competitions

Take the next step in this exciting culinary world. With a global shortage of chefs, you can take your culinary qualification and travel the world!
 T The  The International Culinary Studio has been awarded the Worldchefs recognition of quality culinary education.
The American Culinary Federation Education Foundation recognizes both the Global Diploma and Global Advanced Diploma in Culinary as ACFEF-Approved Programs.
We have been recognised as an educator that consistently delivers quality culinary education online. Our Blended learning model combines in-person teaching and online education. It treats them as complementary, rather than alternative to one another. The blended learning approach is extremely flexible, and in these turbulent times the world is currently facing, this learning approach is favoured by students internationally as they can study and work at the same time if need be. They can strike a balance between both as they are not required to be on a campus or even attend lectures at a specific time. It has also been shown that graduates that are employed while completing their qualifications are more likely to stay in the hospitality industry long-term.
Download the student prospectus HERE.
Code of Practice
International Culinary Studio have agreed to observe and be bound by The Education (Pastoral Care of Tertiary International Learners) Code of Practice 2021 (The Code) administered by the New Zealand Qualifications Authority (NZQA). The Code supports the wellbeing of Tertiary and International learners enrolled with New Zealand education providers.
Copies of the code are available from the New Zealand Qualifications Authority website
What does this mean for you?
The code is produced by the New Zealand Qualifications Authority (NZQA).  International Culinary Studio are committed to providing top quality care to all international students. Signatories of the Code of Practice are carefully audited by NZQA regularly and must show high quality support for all international students and ethical care and behaviour.
High quality service to students starts from the initial enquiry through to graduation.   Every international student enrolled with us is protected by the Code of Practice and the New Zealand Qualifications Authority and we are proud to be a signatory to the Code of Practice for the Pastoral Care of International Students.
Pastoral Care of International Students
We are proud to announce that New Zealand Qualifications Authority (NZQA) has assessed the application of International Culinary Studio Limited (ICS) to become a conditional signatory to the Education (Pastoral Care of Tertiary and  International Learners) Code of Practice 2021 (the Code).
Signatory to the Education (Pastoral Care of International Students) Code of Practice 2016
International Students – Course Options:
Important Student Resources
Please make sure you have a read and familiarise yourself with these important documents before you get started on your course.
FAQ for International Students
Fees & Costs
Course costs vary between programmes. A full schedule of fees is available with each specific course outline. You will have a choice to pay in full or alternatively there are easy monthly and weekly payment plans available, with a deposit that will be due upon registration.
Fees can be paid through a secure payment gateway on our site.
All payments over NZ$500 will be held in the Public Trust for your security.
If you have any questions about payments or fees please Contact Us
Can I Complete my Course Earlier Than The Allowed Time?
 Our online learning platform gives you the flexibility to fit your study around your other commitments. Our Chef Instructors are available to help you to complete the course by the allocated time. 
You may complete short courses and junior chef courses ahead of the allowed time.
What If I Don't Complete My Course In The Allowed Time
We charge a monthly fee of $200 per month, paid in advance, until successful course completion. Our Student Support is available to help you to complete the course in the allowed time. Should you fall behind, please do contact us for assistance on the best way to fast track your studies.
Can I Skip Lessons?
No lessons in any module or program can be skipped. It is essential to complete every single lesson in the order they have been set out, before starting with the next lesson or module in the program.
Can I Do the Lessons In any Order I Like?
No, our programs have been skillfully designed by some of the most experienced Chefs. To ensure that our students get complete benefit from each module and build their techniques correctly, it is essential to complete the lessons set out in the course in order.
Can International Students Study New Zealand Certificate and Diploma Courses?
No. We are only able to enrol students in our New Zealand Certificate and Diploma Courses if they are New Zealand Citizens or residents.
Will my Qualification be Internationally Recognised?
All of our Global Certification Programmes at International Culinary Studio are internationally recognised by Worldchefs (World Association of Chefs Societies) and City & Guilds as the benchmark for Culinary professionals globally.
Any student studying any of the ICS certificate or diploma courses will be awarded, on successful completion, an International Culinary Studio digital badge and certificate. 
Will my Qualification be Recognised in the Industry?
On completion of these courses students can apply for Worldchefs global hospitality certification. Worldchefs, in conjunction with City & Guilds and International Culinary Studio, matches experience gained on the job against a global benchmark for hospitality professionals, takes real life workplace skills and makes them visible, measurable and global.
The Short Courses, Junior Chef and Home School Courses successfully completed programmes will receive a Digital Badge and a Certificate of Achievement from International Culinary Studio.
Can I Do my Course on a Handheld Device?
Yes! For the short courses and junior chef programmes. 
For the Professional Programmes  you must have access to a computer. The app will enable you to access the checkpoints, quizzes, your module outline and some of the videos. Please note that not all course material on the professional programmes can be accessed via the app on a handheld device, and you will need a computer to upload your videos onto the Learner Management System.
Will I Have Access to a Chef Instructor?
Yes, you will be introduced to your online Chef Instructor once you have been enrolled on the course and during your induction
You will be able to get in touch with your Chef Instructor using your Student Login whenever you need assistance or information. Your Instructor will also check in on you on a regular basis.
Please take your time zone into consideration when communicating with your Chef Instructor.
How Will I Gain Practical Experience by Doing an Online Course?
In your course material you will be guided through the practical aspects of the course and be expected to practice these in a reasonably well resourced kitchen.
You will be able to access live streaming, webinars and video clips of various cooking activities.
You will be guided through practical tasks by your study guides and online recipe videos, and will need to submit various forms of evidence to your International Culinary Studio Chef Instructor, who will assess your work and assist you wherever necessary.
Professional Programmes require you to work in the industry in a commercial kitchen with a Mentor Chef and your Industry Practical assignments will be logged in a logbook or work diary.
How Do I Submit my Assignments and Tasks?
All students have a unique profile on our Student Portal where they have access to their study material, assignments, the Chef Instructor and the Student Administrator.  It is via this system that assignments / tasks will be either done online, or downloaded, completed or uploaded for marking.
If you have any questions about how your assignments are submitted, Contact Us and we assist you with the information you need.
When Do I Receive my Study Material?
Your study material will be immediately available to you online once you have completed your induction with your chef instructor, registration process and your fees have been paid.
As you progress through a study unit, and reach the specified outcomes for that unit, the following unit will be made available for you.
If you have a question about fees, the registration period or anything about the study material, Contact Us and we will assist you with what you need to know.
Will I Have to Write Tests or Exams?
Professional Programmes:
Yes, you will be expected to submit theory elements of your studies. These are in the form of checkpoints and quizzes, also assignments and essay type questions which involve research and feedback.
You will also submit practical assignments / tasks, these will be completed in front of a mentor chef/assessor or be videoed and sent to your chef assessor for feedback.
There will be a final theory exam which can be accessed from your own computer at a designated time and date.
Short Courses and Junior Chef Programmes:
You will be expected to complete checkpoints and quizzes throughout your programme which are self-marking and you have 3 opportunities to better your score on most of them.
What Ingredients Do I Have to Buy?
You will receive a full list of ingredients required for each practical assignment of your study units with your course material. So you will know exactly what you need in advance and can plan ahead.
Will I Be able to Have Contact with any Other Students at International Culinary Studio?
Yes, you will be part of an online forum via the student portal.  In addition, we try to make your learning experience as much fun as possible and have therefore introduced interactions on various Social Media platforms.
Can I complete the course in my home language?
No, however if there is any aspects of the course you are struggling with, you can use Google translate to translate your course material into 104 different languages, however your assignments and final exam will need to be submitted in English, and you will need to communicate with your chef instructor in English.
Does International Culinary Studio offer and support students through emotional or mental health issues during study?
Yes, we pride ourselves in having exceptional pastoral care for all of our students. Please contact us or refer to your student handbook for more information.
Heidi Dawson
I have always wanted to be a chef but never thought I could. I have ADHD, Aspergers and low self esteem and my mother said I would never amount to anything. I thought my dream job would remain just that, a dream.
I was encouraged to study by friends …
Read More
Heidi Dawson
I have always wanted to be a chef but never thought I could. I have ADHD, Aspergers and low self esteem and my mother said I would never amount to anything. I thought my dream job would remain just that, a dream.
I was encouraged to study by friends who thought International Culinary Studio's approach would suit me. When I started the course, my life changed. The course is in easy steps, so you are doing one bit at a time making it less daunting. My chef instructor was brilliant, she always had time for me and had a great way of helping me not be overwhelmed by it all. The support was fantastic.
I could fit my course around my family, studying when the children were at school or in the evenings and weekends. It has changed my life, it has changed me, I have a new confidence in myself and my ability. I feel like I can do anything. I would highly recommend International Culinary Studio, this is helping people find their dream job, if I can do this anyone can!