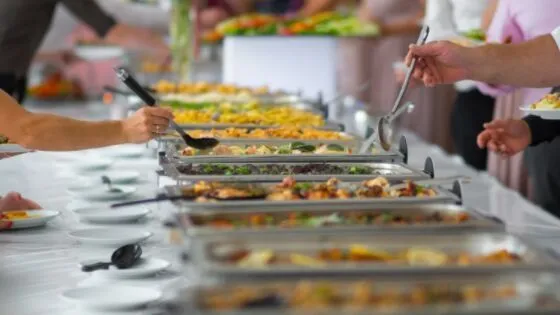 A day in the life of a Caterer
I once met a caterer on a Sunday in her back yard with dishes piled high being washed by a number of employees and tables laden with amazing food, salads, bread, cold meats, and desserts to die for and then her husband drove in and handed out to everyone a McDonald's Burger chips and coke. My mother, father and I stood there with our mouths wide open and horrified (are they not going to eat their leftovers?).
I was planning on starting a catering company and this was part of my research visiting the prospective opposition to see how they do it. Well, that's going to be easy, I will save on employee and family meals as a start as we will definitely not be too proud to eat the leftovers after a function?
A few months later when the business was established we started becoming another fast foods best customer and here is why. Prior to a catering function, you meet the prospective clients and they tell you what they would like at their event, then you scour the recipe books, magazines and now probably the internet for new and inspiring recipes and food ideas. Then you prepare a menu ensuring you use ingredients in season to keep the costs in line with competitors, and then using very descriptive words like, crispy rosemary and olive oil infused roasted baby potatoes, mmmm sounds good (I digress) to make the dishes sound entirely divine. Then you cost the menu and send it off to your client. Once they are happy you meet them again in your studio and you prepare them your menu as a taster to see if they approve. Once again, all going well, they book and pay their deposit.
The function date is the following Saturday and so the work begins on Sunday night a week before, Once you have the final, I repeat final, (as they never come in on time) numbers and added 15% extra to cover big appetites, additional guests, photographers, waiters, and barmen on the evening, you prepare your food ordering. Carefully separating the fresh and the dry goods, the items you can only get on the day of the function and the ones you can get on Wednesday before. So using the baby potato as an example you can take delivery of the olive oil, flour and spices on Wednesday, then on Thursday you can take delivery of the potatoes and these can then be washed, dried and kept ready for parboiling on Friday.
On Friday in a big pot of boiling water the baby potatoes are thrown in until they are just cooked, then removed, cooled immediately to stop them from continuing cooking and then put into the fridge to keep cool. Cooked potatoes can also go bad.
Saturday morning arrives and the potatoes are removed, rolled in a light coat of flour mixed with spices and the freshly delivered rosemary is thrown over them along with a drizzle of quality olive oil and left until 20 minutes before serving time. Remember we said crispy potatoes. 20 minutes before and you have checked the main course is still due to be served on time, in go the potatoes to a very hot oven. Almost ready to plate and then out the food goes, hot crispy baby potatoes- a huge success everyone raves about them and compliments the chef.
After the successful function, the vehicle is packed with the dirty dishes to be removed from the venue and washed off-site, too tired to clean out the vehicle at 2 am on arriving back everyone goes off to bed and meets at 10 am to unpack and wash up and of course pack away. Did I mention all the leftover food was put back into a fridge on arriving back so as to not allow the food to go bad?
Now dog tired and yet still glowingly proud you drag yourselves into the kitchen to begin the big wash up and the first smell that greets you is the crispy roast potatoes which you served last night but have been ordering and preparing since last Sunday a whole week ago and now you know why a McDonald's Burger and chips taste better.
By Cheryl Cordier