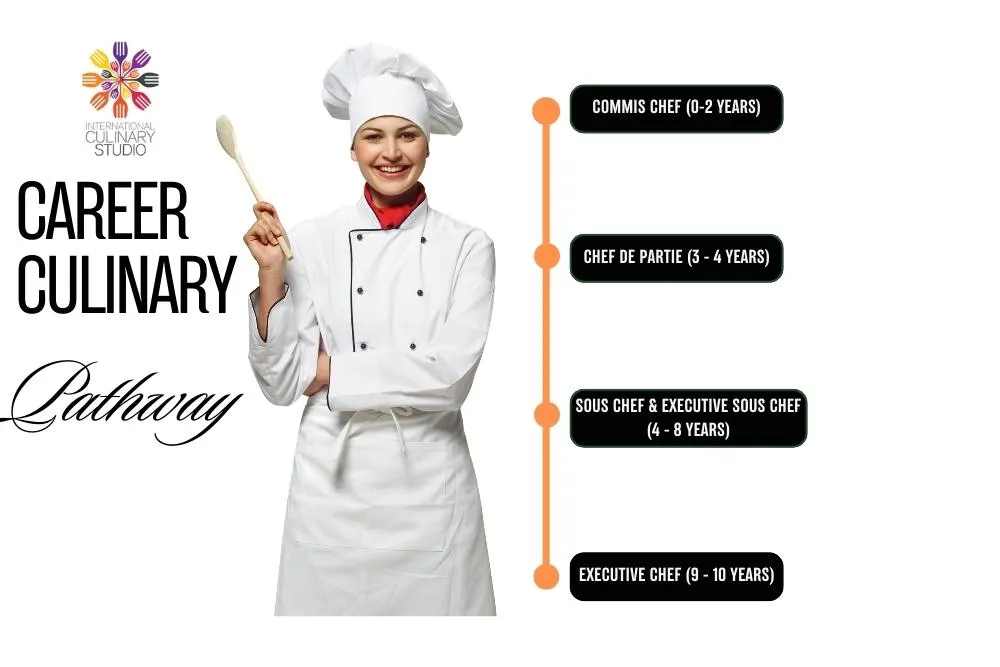 Career Culinary Pathway
There are 4 levels of chefs within most professional kitchens, operating within a ranked or hierarchical structure.          They are:
apprentice or trainee chefs, known as a Commis Chef
section chefs, known as a Chef de Partie or Station Cook or Line Cook
Sous Chef, who act as the second-in-command of the kitchen
Head/Executive Chefs, who are responsible for the management of the entire kitchen and are also known as Chef de Cuisine.
In a professional commercial kitchen operation, all chefs work in a fast-paced, high-pressured environment with very strict time and deadline requirements. A chef needs to be prepared before service and able to get dishes out quickly and to a high standard during each service time.
As a Chef, you will become a part of a dedicated team in which you will share the responsibilities and have the willingness to work flexible hours and rosters.
The list below is a guide to the essential skills and qualities one would need to have and or consider if looking at a career in Culinary Arts:
A knowledge and understanding of preparing, cooking and presenting a variety of dishes using a range of food products and using different cooking techniques.
The knowledge and understanding of personal and kitchen hygiene as well as following safe kitchen practices.
An understanding of nutrition, special diets and incorporating lifestyle and allergen choices.
The ability to work calmly and quickly under pressure in a crowded, loud and fast-paced environment.
An active sustainability focus in all areas of the kitchen.
An understanding of food costing and the factors that influence the kitchen profitability.
Strong teamwork and communication skills.
A willingness to learn, follow instructions and handle constructive criticism.
A high level of organisation skills and the ability to prioritise and delegate.
Attention to detail in order to ensure consistency.
A hardworking and robust approach.
The ability to work independently when required.
Depending on your role and level of seniority, your responsibilities will vary. Below we have a recommended period at each level in the kitchen. Each country is of a different size and the establishments are varied, so this is merely a guideline. In a country with smaller kitchens, you may be able to become the head chef much quicker, however we have benchmarked the levels against large international kitchens globally.
Commis Chefs: (0 to 2 years)
It is important to remember that everyone starts at an entry level in a kitchen operation. The Commis Chef is an Apprentice or Trainee Chef. At this level, you will most unlikely to be whipping up gourmet souffles and plating up intricate dishes, but will be exposed to doing more of the menial work, like endless cleaning, peeling and chopping of the vegetables, fruit and fetching and carrying and, of course cleaning up. This is, however, an ideal opportunity to work closely with the other Chefs in the kitchen to learn the basics of food preparation, hygiene and the different unique techniques in the different cooking methods. The Commis Chef usually reports to the Chef de Partie.
Typical Job Description and Responsibilities:
To develop culinary knowledge and skills and learn technical preparation and cooking skills all under the supervision of more experienced chefs.
To assist and help the Chef de Partie or Line Cooks in food preparation as required, ensuring orders are completed efficiently.
To maintain a clean, hygienic and safe work area at all times.
IT IS IMPORTANT TO REMEMBER THAT IRRELEVANT OF WHICH QUALIFICATION YOU HAVE EARNED, MOST BUDDING CHEFS WILL START AT THE ENTRY LEVEL IN A KITCHEN AS A COMMI CHEF (TRAINEE) AND WORK THEIR WAY UP THE LADDER DEPENDING ON THEIR PERSONAL GOALS AND ASPIRATIONS. YOUR SUCCESS IS DEPENDENT ON YOUR ATTITUDE, THE SKILLS YOU HAVE GAINED AND ON GOING LEARNING.
Chefs de Partie: (3 to 4 years)
If you aspire to be a Chef de Partie, ideally you would study at a certificate or diploma level. Each country has a different level system and for this reason International Culinary Studio has aligned our programs to the World Chefs Digital badging system so our students courses are aligning to globally recognised levels of culinary education.
Also known as a Station Chef or Line Cook. In this position, you will oversee a section of the kitchen and be responsible for the preparation in that section or area. Often starting in the cold kitchen and progressing to sautéing, grilling or frying. The Chef de Partie becomes a specialist in one section, then moves on to another, eventually training in all areas of the kitchen.
Job Description and Responsibilities:
To prepare, assemble and cook and present dishes to a strict time line to meet service requirements.
To manage certain sections of the kitchen such as sauces, fish or pastries.
To be responsible for the preparation, cooking and presentation of good quality food.
To train and develop new trainee chefs (commis chefs).
To maintain overall order and cleanliness in the kitchen.
To assist in menu development.
To have the confidence to converse with the guests and clients.
Sous Chefs and Executive Sous Chef: (4 – 8 years)
If you have a desire to work up the ranks and become a Sous Chef, the ideal qualification would be a Diploma or Advanced Diploma.
The Sous Chef is the assistant to the Head Chef or Executive Chef and is the second in command in the kitchen.
The Sous Chef assists in the all-round running and managing of the kitchen. The planning of menus, creating work schedules, overseeing ordering and managing customer relations is also an integral part. A Sous Chef is required to be skilled in all aspects of food preparation and is expected to fill in for the Head/Executive Chef when required to do so.
Job Description and Responsibilities:
To oversee the day-to-day running of the kitchen at ground level.
To supervise the kitchen inventory and order stock as necessary.
To train and develop other Chefs in the kitchen.
To implement and ensure compliance of health, safety, hygiene and cleanliness as well as standard operating policies and procedures (SOP).
To prepare and plate up dishes when required and serve them to meet the quality and service requirements.
To provide significant input into menu planning and development.
Play an active role in following sustainable practices.
To have a good understanding of maintaining and improving the food cost budget.
Head / Executive Chef: (9 – 10 years)
The Head/Executive Chef is in charge of the entire kitchen, planning and executing menus, hiring and supervising staff, setting the budget, costing, quality control, talking to the media and more. The Head/Executive Chef sets the tone for the restaurant and works closely with the restaurant's general manager or owner and helps to create the vision for the restaurant.
The path to becoming a Head/Executive Chef is all about gaining the experience and refining your skills. Many have started in the kitchen as a dishwasher or kitchen hand and have moved their way up the ranks from there. Every chef's journey is as individual as the chef, and every step influences his or her personal style and ultimate success.
Job Description and Responsibilities:
To manage, train and control kitchen personnel.
To oversee the quality and effectiveness of the menu
To develop the overall creative vision and direction of the cuisine suited for the establishment.
To ensure all dishes are prepared and cooked to the highest of standards set out for the establishment.
To plan expenses, operating costs and other best practice guidelines for food storage and preparation.
Ensure the kitchen is following sustainable practices in all areas.
To have good managerial and marketing skills.
To have the ability to effectively communicate with team members and the customers.
Get the Qualifications
It is possible to obtain a position as a food preparation assistant or similar and work your way up from there within a kitchen by showing willingness, commitment and enthusiasm.
However, attending a culinary programme we believe is an essential part of a chef's training and having a recognised qualification will expose all students to a wider range of cooking techniques and ingredients which will give them a broader skillset. This translates into increased knowledge and skills learnt across a broader range and supporting chefs to earn more and be more sought after for culinary jobs worldwide.
Salary Prospects
Salaries are most definitely defined by your level of seniority in the kitchen, however there are other factors that play a part. The region you choose to work in and the prestige of the restaurant, as examples and if you were to work at a Michelin star restaurant in Auckland or London, it stands to reason that the salaries would be higher and more significant than if you were working in a small town.
Develop Your Career
Every person who enters the culinary world has different career aspirations and goals. Experience, knowledge and confidence can be gained in a number of ways, either by progressing to senior positions within one kitchen or by working across a number of kitchens, always ensuring that the next move is to a more prestigious establishment. For those that are particularly ambitious, armed with a culinary qualification, you can also seek to work in kitchens abroad to expand your skillset; as an example, many chefs spend time working in Italian or French restaurants to learn different techniques and recipes that can be taken back home.
There are other career paths to consider other than working in a commercial kitchen that are exciting and challenging and are suited to a qualified chef.
Qualified Chef Careers:
Hotel Groups 3 – 5*
Cruise Ships
Airline Catering
Mining and Industrial Catering
Game Ranches and Wildlife Parks
Restaurant Private, Chains and Franchises
Pub Chains and Franchises
Production Facilities
Hospitality and Event Caterers
Corporate Catering Companies
Health Care Industry
Private Chef
School Catering
Aged Home Facilities
Cafés
Chef Instructor
Chef Assessor
Experienced Chef Careers:
Chef to a President
Chef to an Ambassador
Private Celebrity Chef
Private Luxury Yacht Chef
Film Crew and Actor Chef
Sports Team Chef
Culinary Judge
Musician Chef
Vegan/Plant Based Chef
Food Technologist / Dietetics
Food Stylist
Food Alchemist
Molecular Gastronomist
Product development
Food Blogger
Restaurant Critic
While the hours may be relatively unsociable and the conditions humid and stressful, cooking is like love, it should be entered into with complete abandon, or not at all.